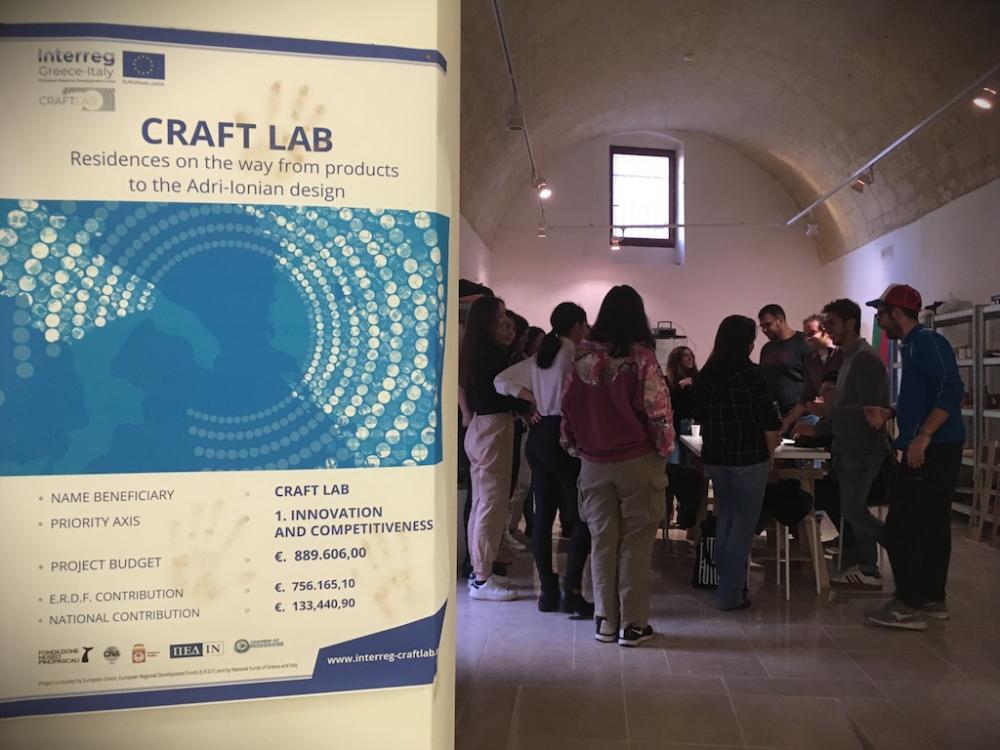 During October-November 2019, I had the opportunity to be part of an intense pottery workshop in Corfu with some of the most skilful and sweet clay artisans working in the island. (Loula Tsami, Anna Tsami, Kostas Panaretos) During this period, we focused mostly on clay building techniques, which on a personal level I found very useful as I was not trained on them. The daily process was almost meditative and I was really moved by the proximity and warmness that clay brings. The few days we got to spent in Grottaglie, where the lab had a different feel, were absolutely beautiful too. Thank you Craftlab!
Elena Agia Bountouraki
Last Autumn I had the chance to take part in the "craft lab" Programm on the island of Corfu. I am extremely glad that I was chosen and I had the opportunity to improve my knowledge and come closer to my goals.  During the seminars we learned so many different things. Our teachers not only showed as the techniques but shared with us a new way of seeing and understanding the proportions and the beauty of an object. I found out that this natural material is very forgiving with mistakes and if you take advantage of them you can turn them into a piece of art. During the seminars we went through the whole process of a ceramic object and this gave me a way of independence, feeling that I could now do almost everything on my own. Creating something out of nothing was an amazing feeling for me. The studio was provided with equipment that I haven't used before and so many different tools that we could use in order to paint or carve an object. The great lesson therefore, was working together with other people, being able to share your ideas and improve yourself through their experience. I really enjoyed the trip to Grottaglie, a city with a great history in this field. There, we were able to work together with great ceramists, as well as visiting museums, galleries and ceramic shops. The exchange between Italy and Greece helped us making some new friends and expand our horizons. Hopefully we can somehow work together again in the future, sharing again our passion and ideas.
To be honest it's  quite difficult trying to put the whole experience into some lines but what I surely want to mention is, that I am very happy that Programms like that exists and I experienced moments that I might wouldn't be able to otherwise.
Kostantina Giannaki
The project Craft Lab Residences on the way from products to the AdriIonian design, within the program Interreg Grecia-Italia, offered  young Italian and Greek artists, selected through open calls, the opportunity to work with teachers and technical operators, experts in the reference sector, thus undertaking an amazing adventure between art and craft. In Italy, the pottery workshops were held in Grottaglie, Apulia, from the 1stto the 19thof July. The city was selected to host the workshops as it has a long and outstanding tradition in this field. The selected artists were:   Aurora Avvantaggiato, Roberto Ciardo, Valentina De Florio, Giovanni Diele, Giuseppe Digennaro, Roberto Farinacci, Bianca Maria Scarinci, Luigi Todaro, Arianna Tucci, Sandro Vestita. The young artists have taken part to a total of 120 hours of practical workshops completely free of charge. The artists have worked with the teachers Claudia Giannuli and Giorgio di Palma and with the technical operator Luca Bochicchio. In Greece, the workshops were held in  Corfu, from the 11thof November to the 14thof December.
The artists who took part were: Elena Agia Bountouraki, Ioanna Bourkoutsoglou, Kostantina Giannaki, Katerina Giannoula, Filitsa Gkougkoudi, Maria Eleni Kopo, Apostolia Salamsa, Elpiniki Tsikiaki, Maria Tsipoti, Christina Tsoumani. The workshops were organised by teachers Spiridoula Tsami, Anna Tsami and Konstantinos Panaretos, withtechnical operators Athanasios Petousis, Panagiota Stamatelou, Georgios Kremmydas, assisted by Alexandra Soulioti, Thomas Georgiou. Special presentations were given  by experts: Ms Assi Benou gave a presentation on Social Entrepreneurship, while Ms Marina Maniati delivered a presentation on Business/marketing plan.   The workshop lasted 120 hours (30 hours a week for 4 weeks) and, as part of the project CRAFT LAB,  it was completely free of charge to all participants. Under the guidance of experienced teachers and technical operators and in properly equipped environment, the selected artists explored ancient techniques and crafts, as well as new ways of expressing art. The young artists were exposed to a synergic mix of arts and crafts aimed at revitalizing the ceramics sectorby ways of new technologies, as well as promoting youth entrepreneurship and work opportunities in the field. Cross-border exchanges between the Apulian and Greek artists taking part in the textile workshops were organised from the 16th to 18th of November in Martina Franca, Italy and from the 22ndto the 24thof November in Lefkada, Greece.  Thanks to these two workshops, which were held over two separate weekends, the artists had the opportunity to become better acquainted with local traditions and techniques, as well as share an experience and work together on different products. The fruits of this collaboration were presented in the context of two project exhibitions held at the Pino Pascali Foundation in Polignano a Mare, Italy from the 30th of November 2019 to the 5th of January 2020 and at the Chamber of Lefkada in Lefkada, Greece from the 1stto the 20thof December 2019.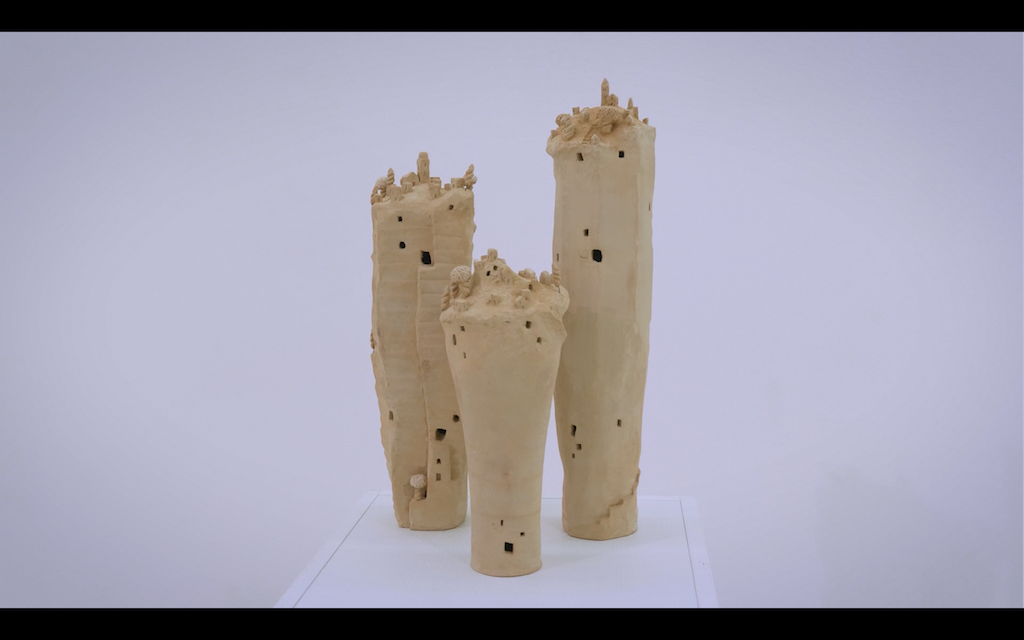 THE TEACHERS
Luca Bochicchio is an art historian, art critic and curator,  specialised in modern and contemporary art. He is the director of MuDA (Albissola), which also includes the Asger Jorn House Museum. He is also Contract Professor in Communication of Cultural Heritage at the University of Genoa, where he obtained his Ph.D. in 2011. He has written various essays that have appeared  in journals, books and catalogues. In 2016, Mimesis published his monograph Scultura e memoria: Leoncillo,i Caduti e i Sopravvissuti (Sculpture and Memory: Leoncillo, Dead and Survivors) . He has curated and co-curated exhibitions on Luigi Pericle (2019); Salvatore Arancio (2019); Lucio Fontana (2018); Anders Herwald Ruhwald (2018); Enrico Baj (2015 and 2017) and Asger Jorn (2014). Bochicchio has been visiting researcher at the Henry Moore Institute (Leeds), the Beinecke Rare Book and Manuscript Library (Yale University) and the Institute National de l'Histoire de l'Art (Paris). He has been working as scientific advisor for Piero Manzoni Foundation (Milan), Mamco (Genève), Cobra Museum (Amstelveen), Hauser & Wirth (Zürich), and MiC (Faenza).
Giorgio di Palma was born in Grottaglie (Taranto) in 1981. After his high school diploma and a university degree in Archaeology, he spent many years abroad (Hungary, Portugal, Germany)  working as an IT specialist  or volunteering in various projects. 
In 2010 he decided to return to Grottaglie and open a pottery laboratory with the support of his father, design professor and owner of an art studio.  Not having received a formal education as an artist has allowed Giorgio to develop his own unique style. His  ceramiche di cui non c'era bisogno ( ceramics you won't need) are remakes of everyday objects in their real size, void of any real function but reminiscent of aesthetic and conceptual meaning. They represent acriticism of out of control consumerism in contemporary society, where whatever is today seen as necessary is destined to become useless tomorrow. 
Through his ceramics, Giorgio loves turning what is useless in eternal as well as commemorating life's moments. Alto-rilievo are snapshots of melancholy moments seen through the eyes of fabulous animals. Their eyes reveal feelings that men have come to ignore, so busy rushing through their daily lives.  In 2017 ICMEA (International Ceramic Magazine Editors Association) awarded him the Fule Prize in the context of the world contest for new ceramic artists. His works have been exhibited in numerous museums, public and private collections in Europe, Asia and America. He has taken part in many residencies and has realised videos and published books in which he tells of those experiences.  In 2015 he started a fruitful collaboration with Dario Miale, with the project Sano/Sano, a photo-ceramic ironic interpretation of reality.
Claudia Giannuli was born in Bari on the 12th July 1979. She obtained her diploma in Sculpture at the Fine Arts Academy of Bari in 2005. Using fire clay, she produces small, minimalist creations that represent the feminine and family universe. In 2012 her works became part of the permanent collections of the Pino Pascali Museum of Polignano a Mare (BA) - Italy. In 2015 she played the main character in a film/documentary directed by Vito Palmieri "Le Pareti di Vetro" (Glass Walls). In 2017, together with Gianrico Carofiglio and Antonio Ottomanelli she played the leading role in Metropolis,  a documentary produced by the French-German TV Network Arte'. Today, she is Professor of CeramicTechnologies (Tecniche della Ceramica) at the Academy of Fine Art of Bari – Italy.
Loula Tsami  was born in Corfu. She studied Ceramic Art at the former National Organisation Of Business and Handcrafts in Thessaloniki, where she opened her first workshop upon graduation and has been a professional potter ever since. She has also taught ceramic and visual arts courses at the Greek Manpower Employment Organisation, Greek Municipalities and Ionian Islands Regional educational programmes, as well as to amateur and professional individuals.
Anna Tsami was born in Thessaloniki. After graduating from the Music High School in Corfu, she studied at the Fine Arts and Science of Art Department at Ioannina University. She taught painting and history of art at the Professional Training Institute in Thessaloniki, Second chance School of Neapoli Thessaloniki, Educational Centers for Adults in Corfu and Thessaloniki. Moreover, she has taught painting and clay classes at the Centre of Creative Activities for Children in Thessaloniki and Corfu. Since 2015, she has been working with her mother at Loula Τsami's ceramic studio.
Konstantinos Panaretos was born in Athens, in 1964.
In 1986 he set up his own ceramics workshop in Athens. In 2007 he opened a new workshop in Corfu, Greece. He started working with Klio Brenner in 1990.
He has been a member of the "Greek Chamber of Fine Arts" since 1991.
Awards / Distinctions:
1989: 3rd Prize, "Panhellenic Ceramics Exhibition", Marousi - Athens, Greece.
1995: 1st Prize, "Panhellenic Ceramics Exhibition", Marousi - Athens, Greece.
1996: 1st Prize, "Panhellenic Ceramics Exhibition", Marousi - Athens, Greece.
1998: 3ος Έπαινος, "Panhellenic Ceramics Exhibition", Marousi - Athens, Greece.
2004: Grand Prize, 1st European Ceramists Competition, Athens, Greece.
Thomas Georgiou  is an Electrical & Computer Engineer. He has obtained an MSc in Environmental Design of Infrastructure Works and an MSc in HR Management. He works for the life-long learning centre "Practica", that provides training opportunities and personal development consulting.
Panagiota Stamatelou
She studied Political Sciences in Aristotle University of Thessaloniki and has a Master's Degree on Political Analysis. 
She works at PED-IN as administrative and technical assistant on CRAFT LAB Project. 
George Kremmydas
Dr George Kremmydas is responsible for the Research Technology and Development Department and the Research and Documentation Network of the Regional Union of Municipalities of the Ionian Islands. He developed and maintained the website of the CraftLab Project.