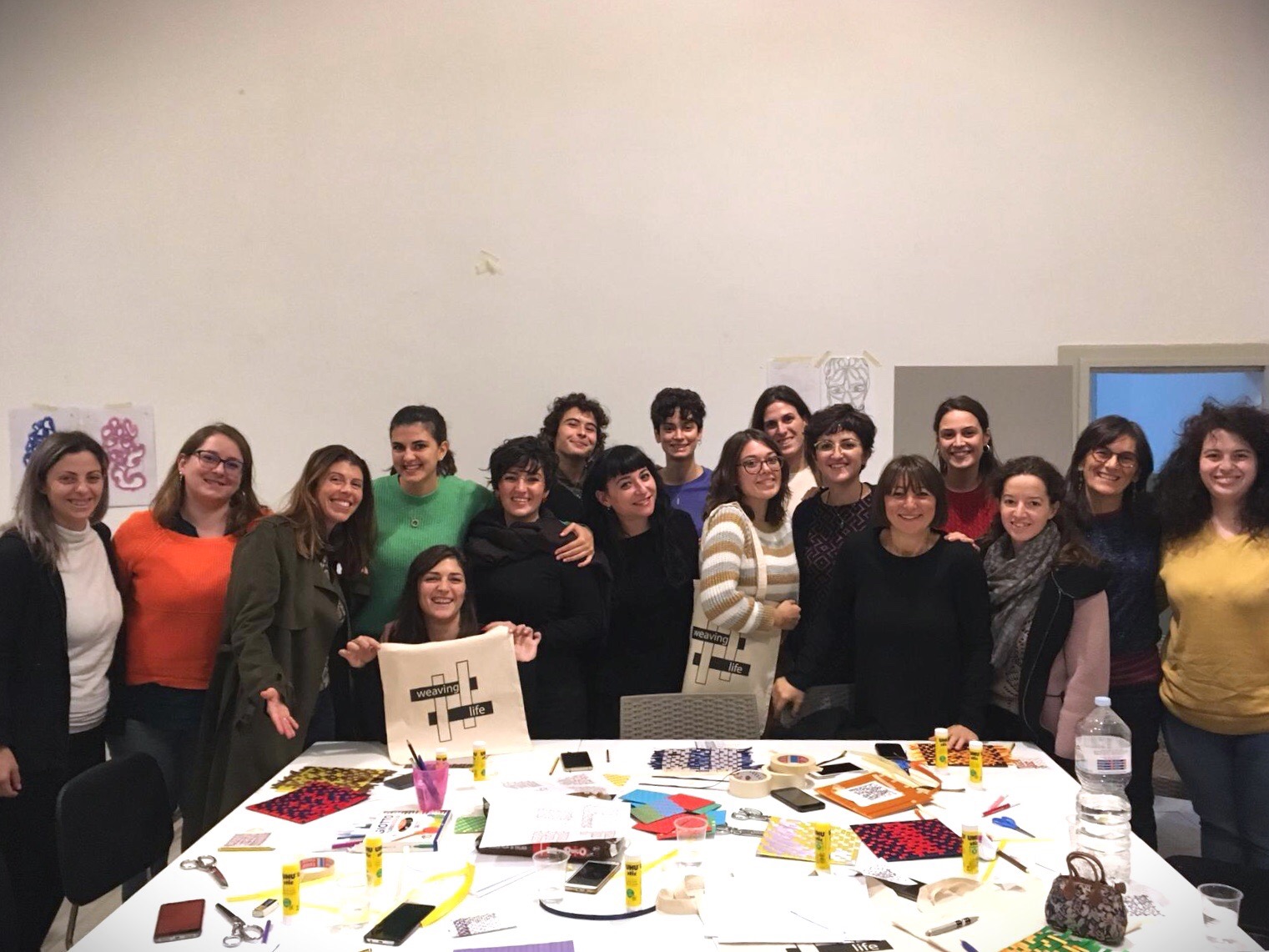 The Craft Lab is not only an experience of training and growth, but a moment of creative sharing with different personalities. Thanks to this project I came into contact with people who love art and culture with whom I built a wonderful relationship and established working collaboration. In the wonderful surrounding of a small center in southern Italy, Martina Franca, the creative workshops of the Fabric section were held, and right there our ideas came to life, intertwined and inspired by the ancient architecture of the city and the flora of the surrounding area. We had the opportunity to meet our Greek "twins" from Lefkada, exchanging mutual know-how on fabrics and processes. Thanks to the collaboration of the Pino Pascali Foundation, we were able to hold an exhibition of our final works where all the workshops of the Craft Lab exhibited their projects. I believe this experience has been among the most significant in my artistic career and I thank the institutions that have given us the opportunity to be able to undertake such a journey.Eugenia Naty
The project Craft Lab Residences on the way from products to the AdriIonian design, within the program Interreg Grecia-Italia,has given young Italian and Greek artists, selected through open calls, the opportunity to work with teachers, technical operators and experts in the reference sector, thus undertaking an amazing adventure between art and craft.  
In Martina Franca, from the 9thto the 29thof July and from the 26thof August to the 13thof September 2019, workshops on textiles were run and coordinated by the teachers Marisa Morea and Mariantonietta Bagliato and by the  technical operator Ida Chiatante.  The Italian artists that took part in these workshops are: Sonia Amendolare, Giusi Maria Antolini, Irene Centronze, Marika Chirico, Aurelia Loconsole, Lucia Longano, Eugenia Naty, Paola Preziosa, Stefania Semeraro, Pierfederica Verdegiglio.
In Greece the workshop was held in the city of Lefkada, from the 30thof September to the 30thof November. The Greek artists who took part in the workshop are:Martha Chalikia, Kalliopi-Eirini Zervoulakou, Stamatia Spyrou, Eleftheria Mikroni, Maria Kontogeorgi, Vasiliki Katopodi, Anastasia Politi, Foteini Stachtiari, Milena Maria Aravani, Eleni Asprogeraka.The Greek workshops were coordinated by the teachers Evangelia Kourti and Sofia Katopodi, with the technical operators Marina Maniati, Marianna Kopsida, Nikolaidis Emmanouil, assisted by Tilemachos Bourtzis and Anna Koukouletsou. In addition, Ms Assi Benou, expert in Social Entrepreneurship and representative of the Ministry of Labour and Social Affairs also delivered a presentation.
The workshop lasted 120 hours (30 hours a week for 4 weeks) and, as part of  the project CRAFT LAB it was completely free of charge to all participants. Under the guidance of experienced teachers and technical operators and in a properly equipped environment, the selected artists explored ancient techniques and crafts, as well as new ways of expressing art. The young artists were exposed to  a synergic mix of arts and crafts aimed at revitalizing the fabrics sectorby ways of new technologies, as well as promoting youth entrepreneurship and work opportunities in the field.
Cross-border exchanges between the Apulian and Greek artists taking part in the textile workshops were organised from the 16th to 18th of November in Martina Franca, Italy and from the 22ndto the 24thof November in Lefkada, Greece.  Thanks to these two workshops, which were held over two separate weekends, the artists had the opportunity to become better acquainted with local traditions and techniques, as well as to share an experience and work together on different products. The fruits of this collaboration were presented in the context of two project exhibitions held at the Pino Pascali Foundation in Polignano a Mare, Italy from the 30th of November 2019 to the 5th of January 2020 and at the Chamber of Lefkada in Lefkada, Grece from the 1stto the 20thof December 2019.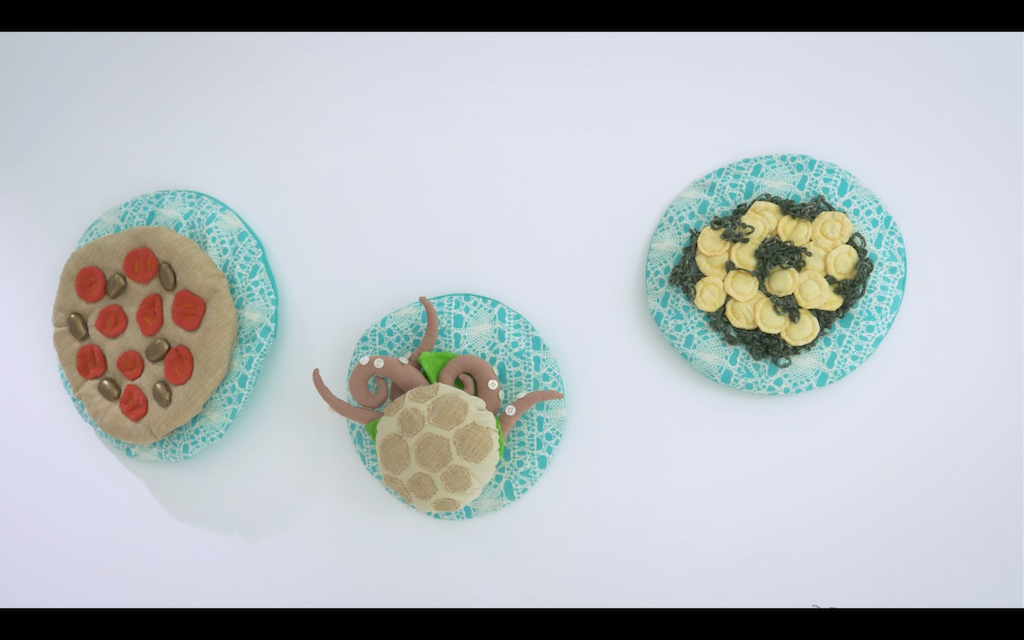 THE TEACHERS
Marisa Morea was born in Lecce (Apulia, Italy) on November 5th 1961. She currently works and lives in Castellana Grotte (Apulia, Italy). She began her Art studies at the  "Istituto Statale d'Arte di Monopoli" (National Art School, Monopoli) where she graduated in "Arte del tessuto" (Art of Fabric Design). She completed her education at the "Accademia di Belle Arti di Bari" (Academy of Fine Arts in Bari) where she graduated in "Decorazione Pittorica" (Pictorial Decoration).   She then graduated as "Disegnatrice e Stilista di Moda" (Fashion Stylist) at the "IPSS di Acquaviva". Marisa was lead teacher for the "CRAFT LAB Textiles - Residences on the way from products to the AdriIonian design" a program which linked Greece and Italy from 2014 to 2020.
She has also been lead partner for the project: "Fondazione Pino Pascali – Museo d'Arte Contemporanea" in Polignano a Mare, Italy. In Marisa Morea's works, the marks, the lines, the shapes intertwine by following rhythms of balance. In this rational game, colour, as a tool, rules. Thin, clean, obedient, schematic brush strokes are placed opposite to  wide, open, large, free and liberating brush strokes. Marks that are inspired by nature, by numbers and letters are altogether put in compositions, they are repeated. In this way, they eventually lose their own identity and become only decorative traces of something bigger. In addition, Marisa introduces us to an interweaving and alternating scheme: real weaves obtained by loom or made by needle. When entering the works, the thread, a ductile element, softens the rigid surfaces, reminding us of textile products such as tapestries.
Mariantonietta Bagliato is a visual artist based in Bari, Italy. Her work is characterized by the systematic use of fabrics. She has experimented with various techniques such as sculptures, installations, and sewing drawings. Her work has been exhibited and published in Italy and abroad.  Some Awards she has been granted: Arte Laguna Prize 2011,– Under 25 Palazzo Romeno di Cultura, Venice; Premio Nazionale delle Arti 2010, Ministry of University and Research, Naples;  Pinacoteca Agnelli Award 2009, Artissima, Turin.
Ida Chiatante graduated in "Industrial Design" and specialised in "Fashion and Communication" at the Polytechnic University of Milan. She obtained a Master's Degree  in "Textile Design and Fashion Accessories" fromEnte Tessile di Como, as well as a Diploma in Model Maker and Visual Merchandiser. She has worked with important names such as  Corto Moltedo, Mantero Seta, D&G. In 2006 she moved to Dublin where she worked as supervisor for Thomas Pink and then moved to New York to work in coolhunting. In 2008 she moved back to Apulia, where she collaborated as graphic designer with Fanida Communication and Marketing Agency and with XY Lab srl. She teaches design in public and private schools. In 2011 she started the Studio IdaKia Design | Communication | Event Planning and Set Up. She created brand collections and collaborated with high level artisans. In 2015 she published the photographic book SARTORIE ( "Tailor's Shops") shortlisted for the Si Fest di Savignano. She took part in a workshop onDigital Fashion in Bucharest and was selected for StartCup Puglia 2015class Social Innovation.
She then began her career as consultant in tailoring. From 2017 to 2019 she was Art Director and Head of tailoring for ABITI DAL MONDO, a tailor's shop that employed asylum seekers and had a retailer shop in Taranto. In 2020 she followed Storie&Stoffe for  Caritas in Bisceglie. In 2019 she was nominated Technical Operator for Craft Lab Textile –An Interregional Project  Greece/Italy of the Pino Pascali Museum Foundation in Polignano. He professional career goes hand in hand with her more artistic path.  
Evangelia Kourti graduated from the Lyceum of Karyas and has over 25-years' experience in looming techniques. She has worked as a teacher in traditional looming technique and has participated in several co-funded projects as an instructor.
Sofia Katopodi studied architectural planning. She runs her own traditional embroidery business and she specializes in  "karsaniko" a local embroidery technique. In addition, she has also worked as a teacher of Karsakino technique and has particularly enjoyed preparing lesson plans for the class pertaining to designing, stitching, and other tailoring arts.

Marina Maniati is an Economist and Business Consultant. She has obtained her BSc and MSc in Shipping Economics from the Department of Maritime Studies and a PhD in Shipping Finance & Bank Performance from the Department of Economics of the University of Piraeus. She is now a postdoctoral researcher on Neural Networks' Performance in Economics at the Department of Economics of the same University. As an Economist and Financial/ Business Consultant, she draws on issues of Finance & Socio Economic Evaluation, as well as Marketing to frame her analysis. She has presented her academic work in different Conferences and peer reviewed Journals, while she has participated in both European & National Projects and/ or Studies as a Project Manager/ Partner/ Researcher (Life+, Interreg, ENPI). Furthermore, she has worked as a researcher for academic Institutions, elaborating scientific research in the field of shipping and transport market.
Marianna Kopsida graduated fromthe Law School of National and Kapodistrian University of Athens. She has worked as a lawyer since 2012  in Lefkada and has experience in legal consulting and business support.
Nikolaidis Emmanouil is an Economist and Business Consultant who runs his own consultancy business in Greece, Cyprus and Montenegro. He graduated from the University of Piraeus (PhD), and the University of the Aegean (MSc) and currently serves  as Visiting Professor of Maritime Economics and International Trade of the School of Economic Sciences and Administration at  Frederick University – Department of Maritime Studies. He is an expert in project management and EU financed Projects and is currently running numerous Scientific EU Projects under LIFE priority, Interreg Initiative, Cooperation Research Program, and others. He is the co-author of two books: "Basic Principles of Shipping Science" and "Maritime – Economic Geography", ed. J&J Hellas. He has published several scientific papers on the topic of shipping economics and safety issues in Journals such as the "Annals of Maritime Studies"and "The Cyprus Journal", to name just two. He has also participated in several Shipping Scientific Conferences where he has presented scientific review papers.
Tilemachos Bourtzis obtained his BSc and Phd in International and European Studies from the Department of International and European Studies, Panteion University, and his MSc in Environmental Policy and Management from the Department of Environment, University of the Aegean. For the last 3 years he has been working as business consultant on projects relating to: Innovation, Entrepreneurship and Business Environment including socio-economic aspects. Since 2003, he has also participated in several research programs, and has also presented his academic work in different Conferences and peer reviewed Journals.
Anna Koukouletsou graduated from the University of Piraeus (Department of Maritime Studies). She has extensive experience as Technical Consultant in public and private organisations. Her main duties include technical consulting services and management, primary research, as well as quantitative and qualitative analysis.